At 130kg, Baron is Australia's biggest dog.
But he's also a very big softie, patiently helping kids learn to read and visiting elderly people in his therapy-dog job.
Baron is an English mastiff, an amiable*, five-year-old pooch who joins his human owner, Mark York, at the SummitCare aged-care home every week, walking around and greeting the residents.
"They want someone to give love to because a few rarely get the chance," Mr York said.
Baron's daily diet includes 1kg of meat for breakfast, four cups of dried food during the day and three eggs for dinner.
He has a 91cm-diameter neck, bread-plate-sized paws and stands around 2m tall when up on his back legs.
"His neck is thicker than most blokes' waist," Mr York added.
"You know he's a big dog when you need a solid ramp to get him into the van."
Mr York said the residents are often enthralled* with Baron.
"They get to spend a bit of time with him and have a bit of animal company," he said. "People's faces light up when he walks in the room."
Mr York's mother, Francis, is one of the residents who regularly sees Baron when they visit.
"Everyone just wants to cuddle him," Mr York said. "We can't even walk up the street without the neighbours coming out to take photos or say G'day."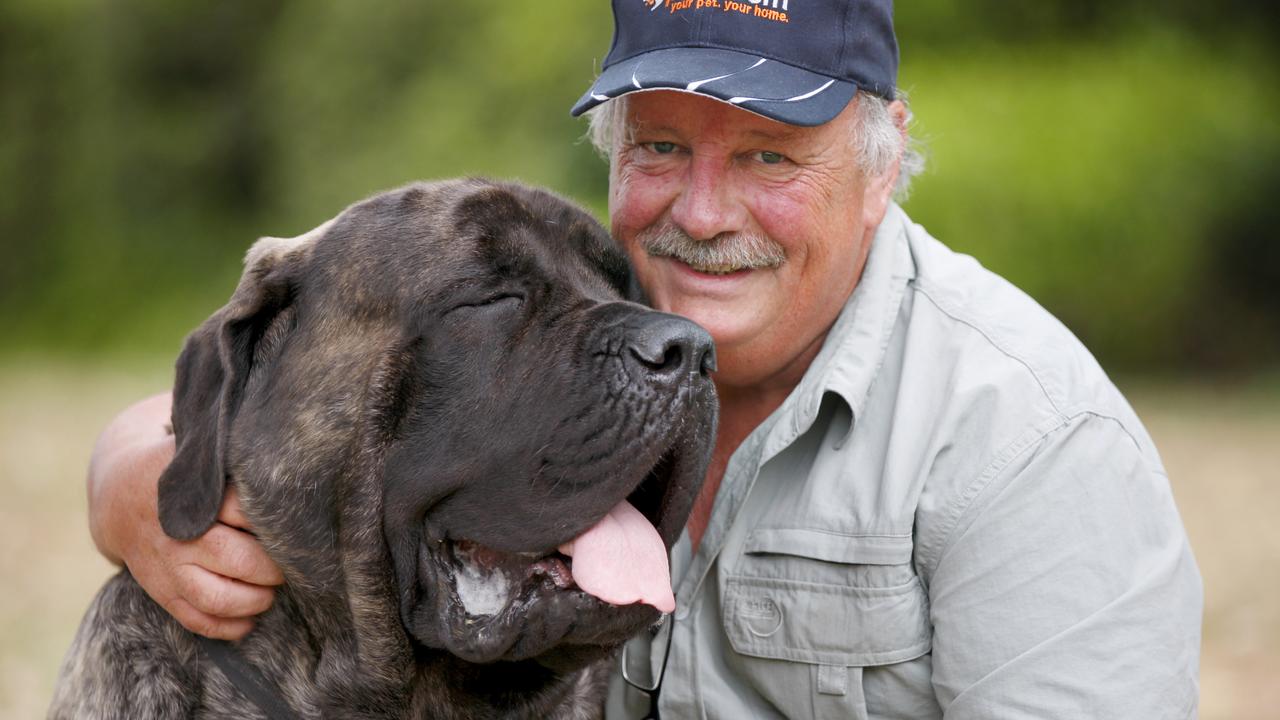 But Baron's most popular fans are the young children he helps to become confident lifelong readers.
The gentle giant, who is also a therapy dog, spends his extra time visiting young schoolchildren with behavioural difficulties to help them build confidence in a program called Story Dogs.
Mr York said the children loved Baron's gentle and friendly nature.
"Baron enjoys sitting there (and sometimes naps) while listening to the kids as they pat him and read him stories," he said.
The proud owner believes the mastiff is no disruption to daily life.
"Baron might be big and stubborn, but he's a loveable and social dog who's well behaved and always under control," Mr York said. "He's just a wonderful fella."
You can find out more about the children's literacy program at storydogs.org.au
DOGS, BIG AND SMALL
The heaviest dog breeds are English mastiffs (or Old English mastiffs) and St Bernards. Males of both breeds are usually 77-91kg.
A great dane named Zeus was the tallest dog ever, standing at 1.118m tall. Zeus died in 2014 but the record is yet to be broken.
The smallest dog still living, in terms of height, is a female chihuahua called Milly, who measures 9.65cm tall. At birth she only weighed 28g and could fit in a teaspoon.
An Irish wolfhound called Keon holds the record for the longest tail — 76.8cm long!